They are who we thought they were. Or, at least, they are who
I
thought they were.
Maybe that's a bit harsh. The Baltimore game was a genuinely strong performance, even with the turnovers. But it turns out the ghost of seasons past had a few more reminders to dole out about a team that changed very little about its makeup following an abysmal 2011 season.
And so we got lousy pass protection, a couple of turnovers, a secondary that couldn't cover a folding chair, sloppy run defense, and ohmygodicouldkeepgoingforever.
On the bright side, Fat Andy did manage to hang on to all his timeouts in the first half. That would have come in handy, had we been able to complete a pass on any of the three plays we ran from the one-yard line.
Where to start with this one? There are so many fun things to rant about, I might just have to go to a bullet format here, first the offense and then the defense. Let's begin with a fun photo!
THE OFFENSE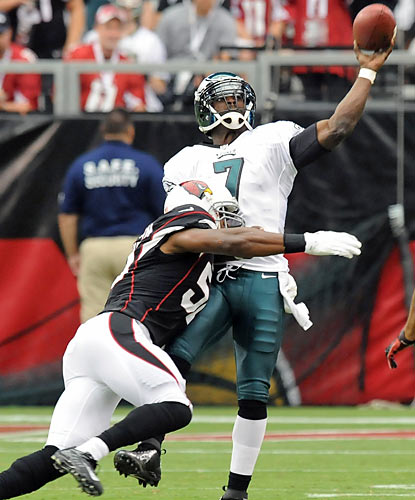 This happened a lot yesterday. It did not go well.
This photo, I think, pretty much captures the offense's performance. The offensive line is nowhere to be found. LeSean McCoy might as well be up in the press box. Mike Vick is about to get deposited three feet underground by an unblocked pass rusher. And I'm going to guess that that particular pass is not going to result in a completion.
Andy Reid's total unwillingness to feature LeSean McCoy, one of the NFL's most dangerous weapons, at the expense of an inconsistent passing game, is astounding. McCoy saw 20 carries against Cleveland and 25 carries against Baltimore, both wins. He saw just 13 carries against Arizona, including just FOUR in the first half. Four first-half carries for an All-Pro back! That's compared to 20 attempted passes for Vick, not including a number of scrambles and sacks. Even when you take out the final drive, when the offense was trying to move quickly, Vick either passed the ball, scrambled, or was sacked on 14 of the first 19 plays (not including penalties and punts). That's far too high a proportion, but that's Fat Andy for you. And the final drive included ten straight Vick-dependent plays.
The offensive line was vomit-inducingly bad. Demetress Bell was so terrible that I'm going to revert back to calling him Demetrius until he earns the right to have his name spelled correctly. Anyway, Demetrius was called for a false start and a holding penalty. The holding penalty particularly puzzled me because it didn't seem like Demetrius laid a hand on a single defensive lineman all day. King Dunlap is terrible, and he is, like, a full order of magnitude better than Demetrius right now. Jason Kelce's beard would have done a better job against the Cardinals.
I kind of touched on this, but the play-calling was abysmal. Here's a pop quiz: you've just lost two starting linemen, and your quarterback has a propensity for getting sacked and injured. You're playing a team with an underrated defensive line that just made Tom Brady look the worst he's looked in years. You do, however, have an All Pro running back at your disposal. How that translates into the kind of pass/run ratio we saw in the first half is beyond me.
It's tough to fault Vick completely on this one. Lousy play-calling and lousy pass-blocking basically meant that he had no chance to succeed. And, astoundingly, he managed not to throw an interception, which mean's he's now on pace to throw just 32 picks this year. He did manage to fumble twice in Arizona territory, though. If anything, this game just underscores Vick's obvious limitations. His strength is supposed to be that he can create something out of nothing, right? Because he's such a great improvisational quarterback? Well, guess what: he can't. He can't because he's not a good enough or smart enough passer, and you can't outrun everyone all of the time. Enough already.
One more dig: Could Jeremy Maclin stay healthy for more than three quarters at a time? Jesus Christ, it's like he's made of drywall.
Does that about sum up the offense? Let's see, I disparaged the offensive line, the quarterback, the play-calling, and a wide receiver, so that's just about everyone. Good job, LeSean!
THE DEFENSE
Nnamdi Asomugha: World's least threatening cover corner


Was Nnamdi Asomugha always this slow? How did we not notice this before? Did he look so good in Oakland because he played so many games against Matt Cassel, Philip Rivers, and Denver's quarterback du jour? He got beat on another long touchdown, after giving up one (and almost two) against the Ravens. But the play that really caught my attention came on a Ryan Williams run around the left side, when Williams just ran right around Asomugha. Asomugha's cap hit is $15 million next year, $12 million in 2014, and $10.8 million in 2015. At this rate, if we continue to see his performance decline, is there a chance the Eagles choose to cut bait after 2013 and save $12 million against the cap? I'd be shocked if he makes it to the end of his deal. My straight-line speed might just be better than his at this point. I hope I age better than that.
With just under four minutes left in the third quarter, Jason Babin sacked Kevin Kolb to force a fourth down and a change of possession. He celebrated like he had just turned the tide of the game. The Eagles were down 24-3 at that point. I don't mean to get all Gregg Easterbrook-y here, but come on, dude. Don't act so pumped when your team is getting torched.
I was a big Cullen Jenkins fan last year, but I've soured on him a little. He's basically a situational defensive tackle. He can rush the passer, but god forbid you have him in the game and the offense decides to run the ball up the middle. You're basically conceding six yards or more if that happens.
DeMeco Ryans is the best linebacker the Eagles have had since Jeremiah Trotter. I know the run defense was porous against the Cardinals, but Ryans consistently stands out in a way that few Eagles 'backers have during the Fat Andy era.
What was a big difference between the Baltimore game and the Arizona game? Mychal Kendricks, Fletcher Cox, and Brandon Boykin were far less productive. When those three are playing well, the defense rises to a whole new level. When they're not, Kevin Kolb shreds the Eagles for a 127.4 quarterback rating.
I know I've been playing the same tune for a while now, but stop me if I'm wrong: The play-calling and the quarterback play are always going to be issues for this team. When your coaches and your quarterback aren't up to snuff, how good can your team honestly be?
If the Ravens game was a glimpse of how good this team can be, then the Cardinals game was a reminder that it's still got some of the same ugly warts that led to last year's debacle. And, sadly, until Reid and Vick have packed their bags and moved on, those problems are always going to be there. It's almost a shame that this team is going to end up around .500 or better, because that result will entrench the same kind of decision-making that has led to a slow slide backward into mediocrity over the past five or six years.
By the way, I pointed this out on Facebook last week, but the Eagles are now 0-3 against the spread this season. They started 4-8 against the spread last year, before they got blown out by Seattle and public perception finally adjusted. Paper giants always perform poorly against the spread, because the average bettor overestimates the importance of big-name talent. There's money to be made here, folks.